Exeter's Most Renowned Hog Roast Caterer
At Hog Roast Exeter, our aim is to provide you with fantastic food, at a great price. We want your guests to go home full, relaxed and happy. For more than a decade, we have been catering for family parties, corporate events, weddings and other celebrations. It does not matter what the size of your event is, we will provide you with wonderful food that is tailored to meet the needs of your guests. Hog Roast Exeter's expert event planners will guide you through our menu options and advise you on what would be the best fit for your event, whilst always leaving the final decision about what to include on your menu up to you.
The hog roasters we use can be used indoors as well as outdoors, so we can cook the meat in front of your guests at practically any venue. Our catering team will arrive early to set everything up and start the cooking process. They will lay out any side dishes you have ordered on a buffet table along with good quality disposable plates and cutlery.
Any Event Catered for with a Hog Roast Feast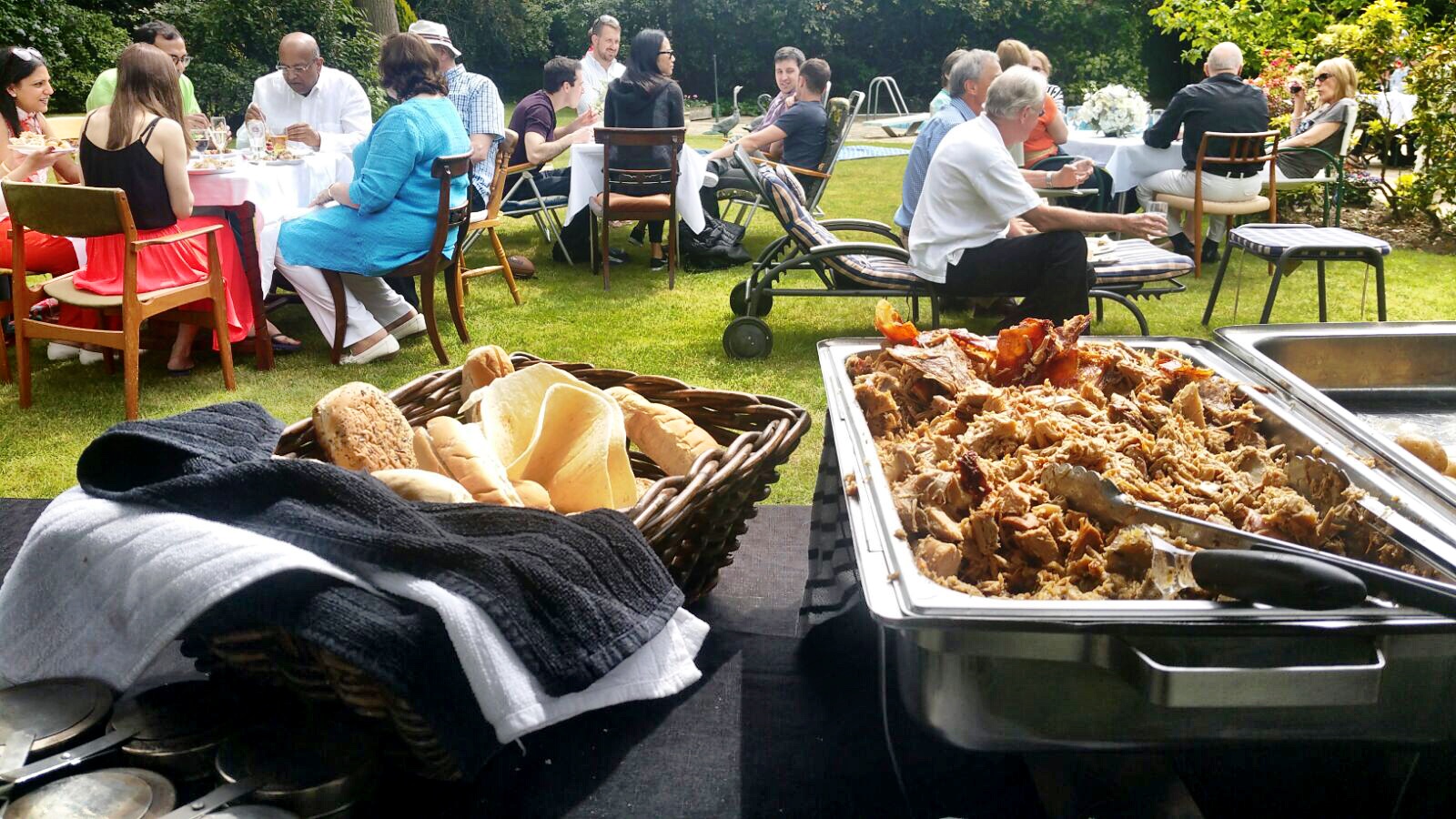 We have many menu options in addition to our signature hog roasts and you will be spoilt for choice with number of dishes we offer. You can choose from a mouth-watering selection of other spit roasted meats, such as lamb, beef or chicken, or flame-grilled barbecue dishes.
We are also sensitive to the needs of our diners who have specific dietary requirements, and we have plenty of meat and dairy-free options available, as well as an abundance of colourful and varied salads, starters, desserts and canapes that appeal to all tastes. Hog Roast Exeter's catering team incorporate flavours from lots of different global cuisines when creating our exciting menus.
All you need to do is pick which delicious dishes you would like on your menu and we will take care of everything else. We will make everything from scratch at your venue, serve your food right on time and present it in your preferred style.
Why Choose Hog Roast Exeter?
This spectacular city is home to such a diverse foodie scene that is embraced by the locals and known as one of the foodie capital of the South West. Hog Roast Exeter embraces that scene and provides this magnificent city with the best hog roasts in the county!
The Hog Roast Exeter team know the Exeter area very well now after catering here for so long and providing hog roasts across the city and beyond! If you know anything about hog roasting, you will know it is an art form that take patience but will provide the most amazing results simply unachievable via any other cooking method. Using our hand-crafted machines, we will carefully score and season the hog before leaving it in the machine to slow roast for anything up to ten hours depending on the size of the hog and how many people we are catering for.
We always prepare out meat on-site, and our clients love being able to watch their food being cooked right in front of them! Whilst your choice of meat is being cooked delicately over the course of several hours, we will be busy freshly preparing all of the rest of your dishes using the best locally sourced produce. Whether we are preparing a large buffet, our delicious hog roast sandwiches or a 3-course meal, all your food will be made at your venue with our own fair hands! We really can do it all when it comes to event catering in Exeter – all you need to do is get in touch with us and let us know what you need!
Cook your own Hog Roast in Exeter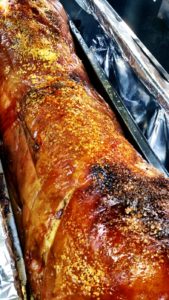 If you would prefer to take the helm yourself and not have professional caterers on-site to do the cooking for you, why not hire one of our hog roast machines? Our hog roast machines hire service offers you an affordable, straightforward and impressive way of doing your own catering for any event. We will talk you through everything you need to know and deliver the machine to your venue for you.
Ordering your hog roast feast really could not be simpler. Just select some dishes from our menu and fill out the quote form with those details and the number of guests you are planning to invite. We will then send you a quote. Once you order, we take care of everything from there. It really is the most stress free way to look after your guests.